How To Choose A New Construction Floor Plan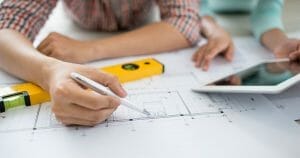 If you've decided to purchase a new construction home, among the first steps are to determine the town or region where you'd like to live, find a builder, and begin reviewing your design options online. At some point early in the process, you may find yourself overwhelmed by the variations in floor plans. Beyond the fairly straightforward decisions about the number of bedrooms and bathrooms you want, how do you choose a floor plan that best fits your style and needs?
Your builder can be an invaluable resource in helping you make final decisions – and even prompt you to rethink what you thought you were sure of or needed in a new home. For example, sometimes homebuyers have specific square footage in mind, but what they eventually discover, as the builder explains various options, is that it's not really the square footage that matters as much as the layout of the home. The same square footage can have more or fewer bedrooms or bathrooms, for instance, or an open floor plan compared to a home with a walled kitchen, dining, and living room areas that may function quite differently.
We've come up with a list of key considerations and questions to ask yourself as you select a floor plan for your new construction home:
Budget & Location
These are the most important factors in determining how much house you'll be able to afford. Once you know the general area where you want to live and your complete budget, allowing some wiggle room for modifications or upgrades along the way, it will make every other decision that much easier.
Comparison to Your Current Home
The idea of creating a home that meets all your needs and desires is one of the reasons home buyers choose to build, versus purchasing a previously owned home. But there are probably lots of things you love about your current home. What do you want to replicate in the new house? Conversely, what do you wish your current home had? Making a list of the pros and cons of your current home will help you focus on the floor plans that fit the vision you have for your new space.
Bedrooms & Bathrooms
How many of each must you have? Think about if you want to include space for overnight friends and relatives. Also, keep in mind your growing family and how long you plan to live in your home. Which members of your family will be sharing bathrooms on a busy weekday morning as everyone gets ready to leave the house?
Must-have Features
List your true must-haves separately from your wish list items. These may include open-concept floor plans, separate dining room, eat-in kitchen, walk-in closets, bonus room, dedicated space for an office, in-law suite, entertaining, guest room or hobbies, primary bedroom suite, back deck, etc. What is important to you in a home? Which features would be deal-breakers for you if you couldn't incorporate them?
Layout
Do you want all of the bedrooms to be on the same floor? Would you like a first-floor bedroom option? Maybe your home office needs to be tucked away from the distractions of daily activity in the house. Think about the most practical location for the washer and dryer. Do you want an enlarged entry or mudroom to keep shoes and coats out of the way? Should the kitchen be separate or flow into the living area? You might also consider alternate uses for a room that might be designated in the blueprints for traditional use. If, for example, you don't need a formal dining room, perhaps that's the space that can become the playroom, office, or something else. The function of the rooms in your home are just as important as the design features.
No matter what, don't forget that this is your home, and you should feel comfortable asking questions, making requests, and voicing your preferences. Our advice is to keep an open mind in those initial meetings with the builder. Take full advantage of his or her expertise and experience as you look at some of the choices you might not have thought about before. In the end, we're certain you can combine the best of your dreams and practicality to build a home you love.
Are you interested in seeing what our communities and various floor plans have to offer? Or, start online with a virtual tour!