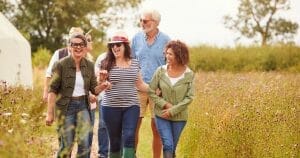 When we reach a certain age, it might make sense to downsize or seek out a home that offers some extra advantages to make homeownership easier. Consider the growing popularity of "55+ communities." They're so named because the minimum age requirement of at least one resident living on each property is 55. That is, a couple can choose to live there as long as one of those people is at least 55.
Don't think of them as retirement communities, though they are a great option for people who have retired or plan to in the coming years. The age-specific requirement simply means you'll be surrounding yourself with neighbors who are in a similar stage in life, and you'll likely find a lot in common. Chances are you'll expand your group of friends and enhance your social life.
The homes are designed with mature adults in mind, from amenities to location. Care-free living is a major focus of 55+ communities. First-floor master suites often are standard, along with dedicated space for laundry and other conveniences for daily living. Second floors may offer additional living space – often bedrooms for guests, space for a home office, or bonus rooms for hobbies, fitness, and entertainment.
Care-free living also means low maintenance. Especially when the home is new construction in a newer community, there will be no immediate worries about repairs or the high costs of inefficient, older appliances. You won't debate renovating your former home for future needs because you'll have selected the floor plan and features that will fit your lifestyle. Landscaping is streamlined and manageable so that you can spend more of your free time on the things you enjoy rather than yard work that can be a nagging chore from spring through fall.
One of the best benefits of 55+ communities is location. They may be intentionally designed with easy access to local shopping, dining, medical facilities, churches, and ways to stay physically active.
All of this describes our newest 55+ community in Goffstown, NH. Residents of Glenn Place will have direct access to the rail trail for walking and biking, as well as everything that the surrounding area has to offer. Homes feature hardwood floors, a kitchen with stylish cabinet and counter selections, and stainless-steel appliances. The open concept dining and living area is even more spacious with nine-foot ceilings. Want to see it for yourself? Make an appointment for a showing and don't miss out.