Winter Fun In Southern New Hampshire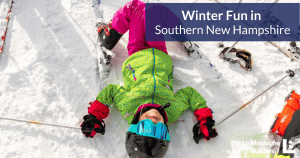 New Hampshire is arguably one of the best spots to live in the U.S., especially for those who like to play in the snow a few months out of the year. Don't believe us? See what U.S. News & World Report has to say about it.
So if you get a little thrill when those first flakes start to fly, we've got some fun and unique ways to enjoy the winter season. Read on!

Skiing and snowboarding are obvious choices. Our beautiful state has several mountains where adults and kids of all abilities can hit the slopes – even in the city! McIntyre Ski Area is Manchester's hidden gem, and a perfect place for little ones to try out skis for the first time. Similarly, Pats Peak is a favorite spot for an easy day trip close to home for beginners and more experienced skiers. Both of these locations even offer after-school ski lessons that families across southern New Hampshire take advantage of. The best thing about New Hampshire is how easy it is to access any other ski resort in the state. You can check out the options from Whaleback Mountain to the west. . .up to Gunstock in the Lakes Region. . .and some of the most popular in the North Country. SkiNH has all the info you need for downhill and cross country skiing, too. If you'd rather not ski the trails, try tubing. Many ski areas offer this activity that is great fun for groups of all ages.
Snowmobiling in New Hampshire is a unique culture. There are thousands of miles of trails you can jump on for short rides or multi-day trips. Our state parks system has a list of trails and updates the conditions every day.
Snowshoeing might attract experienced hikers who don't mind the cold temperature conditions. There are plenty of unique opportunities to hit some of the White Mountain trails in the winter months. For the rest of us, many ski areas offer snowshoeing trails as well as cross-country skiing, guided hikes, and more.
Ice skating, fishing, hockey. . .oh, my! Don't discount the fun to be had on the lakes and ponds in the winter. While you're waiting for ice-out to resume summer activities, you can bring along your skates and enjoy beautiful scenery while you glide. Bob houses start to dot the surface of big lakes where you can fish. Manchester's Lake Massabesic is on the list of spots to give it a try and get hooked on a new winter sport. Pond hockey tournaments are common, too. Check out the Black Ice event close to home in Concord. Ever heard of ice sailing? You could see some brave souls doing it on Lake Winnipesaukee.
Festivals and other winter events populate New Hampshire's community calendars on any given weekend in the winter. Whether you're looking to get into the holiday spirit with a vintage Christmas experience, experience the thrill of climbing into and sliding down hand-crafted ice castles, or snuggling into a horse-drawn carriage for a quiet stroll through the woods, there's always an opportunity to enjoy the great outdoors. For something unique, try dog sledding through rural New Hampshire. Climb to the top of the northeast's highest peak like you've never seen it before: a snowcoach tour of Mount Washington will take you up in an all-terrain vehicle.
Looking for more? Check out this list of 17 ways to have fun in New Hampshire this winter. What's your favorite winter activity that makes you glad you live in New Hampshire? Let us know!