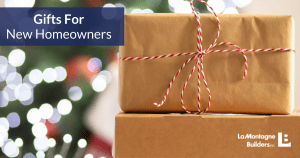 When you're making your holiday gift list and checking it twice, don't forget something for the friend or family member who has recently moved into a new home. If it's their first home or a major change from their previous one, they may be in need of just about everything, and that leaves the options wide open.
Should you go practical and functional? Maybe stylish, fun, or sentimental? Or perhaps you can find a gift that's some combination of all of those things. You might even consider a gift card that they can use to choose something on their wish list. Here are some ideas to help you narrow down the choices and find the perfect gift.
For the Neighborhood Newbie
Did they just move to a new home from somewhere far away? Etsy crafters and artists offer dozens of handmade, custom gifts that can be personalized to help your loved ones settle into their new location, or remind them of where they came from.
Or, do a little research to find the best restaurants in their new town or those hidden jewels for shopping and entertainment that will make them feel like a true local, and help them get acquainted with a gift card for their soon-to-be-favorite spot.
For the First-Home-Ever Friend
If they've landed in their first house from an apartment or the home they grew up in, then they probably want to start fresh with household items big and small. You can help fill the linen closets or kitchen cabinets. Find the fluffiest towels, the prettiest wine or cocktail glasses, or upgrade an everyday pot or pan to one they wouldn't splurge on for themselves.
For furniture and decor, think Wayfair, Crate & Barrel, Ikea, or your own favorite local home store where they can shop for any room in the new house. From wall art, to throw rugs, lighting, and backyard accessories, a gift card can help add the right finishing touch.
For the Entertainer
If you have that friend who loves to throw dinner parties or makes meals and desserts worthy of posting about, maybe new cooking tools are just the thing. Choose a small appliance they'll love using, such as a stand mixer, blender, or an air fryer. How about a set of knives, baking sheets, or a quality wood cutting board? Whether they prefer fancy or whimsical, you can find serving bowls, platters and utensils to match their style.
For the Busy Household Manager
Settling into a new home is a challenge for any couple or family, and it helps to take an organized approach. Surprise them with time from a professional organizer who can offer tips on how to keep their home uncluttered while keeping track of schedules and activities.
Or, let them pick out their own organizing tools and gadgets with a gift card for the Container Store, Ikea, or Amazon.
For the One with the Green Thumb
If your loved one enjoys digging in the dirt and intends to plant a new garden, give them the supplies they need. A new tote full of all the tools of the trade, including gloves, a sun hat, and hand tools. How about a new hose for watering and a rain gauge to measure how much Mother Nature is doing her part? Some pretty garden ornaments can give any kind of garden landscape a unique look.
For the (Wannabe) Handyman
There are two kinds of homeowners: those who enjoy DIY projects and are pretty good at it, and those who need a little help. Whichever category your friends and family fall in, you can find the right gift to support their household endeavors. A toolbox filled with some of the basics is perfect for a new homeowner who no longer has a landlord or maintenance manager to call when a problem arises. If painting is on the to-do list, how about putting together a gift bag of the necessary supplies, such as paint trays, roller, brushes, and tape? For the ambitious homeowner willing to take on the big jobs, a subscription to a magazine like Family Handyman could provide guidance.
What would you add to our list? Are there products you can't live without and stores you love to shop in for all the things to make your house a home? Tell us about them!