Maximizing Your Outdoor Living Space for the Summer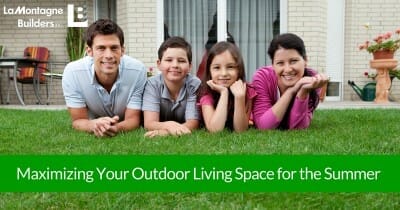 New Englanders have many opportunities to appreciate the outdoors all year round. The lakes, seacoast and mountains of New Hampshire are part of what makes our state so special. Unlike those who live in warmer climates, however, we have a much shorter season to enjoy our own backyards. We have some ideas to maximize the summer months in your outdoor living space.
The first consideration is the landscaping. Choose the right plants will thrive in all kinds of weather conditions and temperatures, because you know we get it all in New Hampshire. Included on a list of trees native to our region are maples, evergreens like pines and spruces, and aspens. Flowering trees and shrubs such as dogwoods can offer some colorful variety.
Whether you have a porch, patio or deck, you can decorate the space to make it an extension of your home for enjoyable days and nights. Choose furniture sturdy enough to withstand the elements but easy to move and store between seasons. Think about ways to repurpose old furniture or items that might otherwise be tossed out. Wood pallets have gained a lot of popularity in DIY upcycling projects for tables, planter stands and art.
A pallet or two or three together can be turned into a privacy screen. Another way to ensure some seclusion in your outdoor paradise is to make use of garden flowers of varying heights and shade trees. Strategically place containers with flowers and plants can serve the same purpose.
If you want to make the most of New Hampshire's milder weather in the spring and fall, think about adding a fire pit or heat lamp to your space. Those can help you and your family and guests take advantage of cool, but still pleasant evenings.
Do you have some great ideas of your own for landscaping and decorating outside? Or maybe you've done some of what we mentioned at your house. Show us your outdoor living space! Tag us on Twitter or post a photo on our Facebook page!