Enjoying a Calm and Comfortable Thanksgiving at Home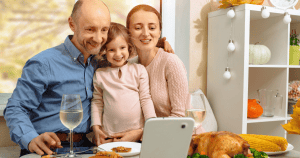 The holiday season this year has everyone a bit anxious, a little on edge. We get it, we're there too. This is the time of year we usually provide suggestions on how to host a houseful of family and friends gathered together. But instead of focusing on making room for large tables and impressing your guests with the perfect decorations, we want to take a few steps back and put the spotlight on what truly matters this time of year, maybe most especially in 2020. Give yourselves a well-deserved break from feeling like you have to do it all and concentrate on the opportunity for some time off and a peaceful home this Thanksgiving. Here are some ideas for more enjoyment while avoiding the stress that can come with the traditional holiday most of us are used to.
If you love to cook but would rather skip the shopping and prep, local butcher shops, grocery stores, and online retailers have you covered. You can order a fully-prepped meal with turkey, sides, dessert, even beverages, and have them delivered to your door, or pick it up curbside. All the ingredients and instructions for cooking are usually included. Some will do all of the measuring and chopping for you so that all you have to do is assemble, pop it in the oven, and set the timer. The Concord Food Coop is taking Thanksgiving orders, as are many others around the state.
Want a cooked meal at home but don't want to turn on the oven? No problem there either.
Grocery chains, local butcher shops, and even some restaurants are providing complete, fully-cooked dinners with sides and desserts. Some restaurants even have takeout beer, wine, and cocktails! Simply set the table and dinner is served. Check out the options offered by various Common Man locations, Tuscan Market in Salem, and Whole Foods in Nashua or Bedford.
Speaking of setting the table, take advantage of the opportunity for the ultimate effortless holiday. For an Instagram-worthy table display and decor without any of the hassle of shopping, finding those perfect pieces, hire Hestia Harlow, an at-home rental and delivery service. They'll send everything you need, and you don't even have to do the dishes after!
Dining out for Thanksgiving is a popular choice when you just want to sit back and let someone else do all of the planning, meal prep, cooking, serving, and clean-up. Some restaurants are opening their doors for Thanksgiving. When you call for a reservation at your favorite spot, be sure to find out the individual restaurants' restrictions and policies that might be new this year.
Do you have any other ideas for simplifying the holiday? We'd love to hear about them – connect with us on Facebook or Instagram.